It's all about the Music and Food...
We arrived in Nashville on Saturday after a very bumpy plane ride over the pond and then an even bumpier plane ride from Philadelphia to here!  This was due to the severe storms affecting NYC.
Photo: Philadelphia to Nashville
First thing I noticed at the airport was that you had famous musicians welcoming you to the city over the PA system and asking you to check the tags on your luggage etc  - Lionel Richie being just one of them!
On Sunday, we met up with Carrie, who lives here and I've known for over 3 years, but this was the first time actutally meeting her and it was amazing!.  She was our guide and showed us round the beautiful city.  We stopped for lunch at Burger Up, which was really good - we got there just in time as the power blew right after we were served our delicious food!
Photo:  Carrie & I outside Burger UP
Right next door to Burger Up is Las Paletas (Paletas are Mexican popsicles/ice lollies that come in creamy or fruity flavours) - they are to die for and make you want to try one in every flavour!
On Monday we visited the Belle Meade Plantation which was beautiful and is famous for breading thoroughbred horses.  While there, you can do wine tasting as they have their own winery, now, I don't like wine, but every wine we tasted was so good that we ended up buying some bottles as well as a Southern Country Cookbook!
In the evening we ventured Downtown to see some live music and ended up in The Stage on Broadway - this was the busiest bar with the best live music.  It is also where parts of the film Country Strong were filmed - sadly, Gwyneth Paltrow, Tim McGraw, Garrett Hedlund, and Leighton Meester were not there to share a beer with us!
Photo:  Drinks at The Stage
Yesterday I had lunch with BettyAnn (Nathan, Caleb & Jared's Mum).  When she found out I was in town, she asked to take me to lunch.  We went to a little quaint restaurant and, as we say in Scotland, had a good old chin-wag!  She was really lovely and it was so nice of her to take time away from her work to take me to lunch.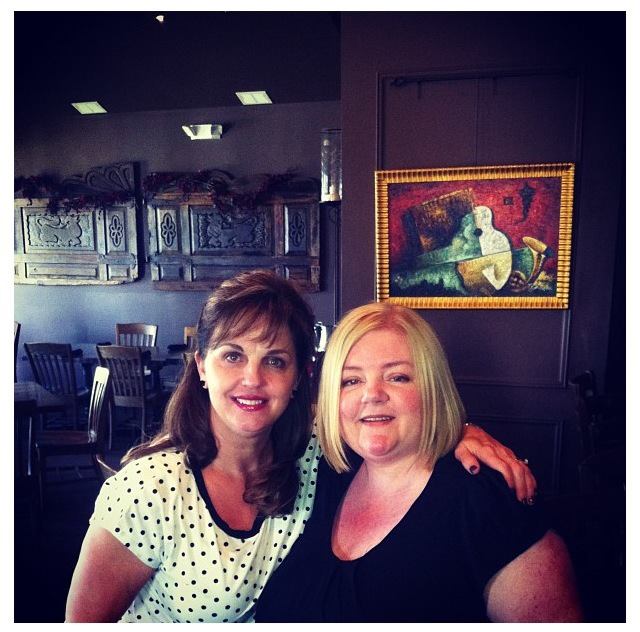 Photo: BettyAnn & I
Today, we started with breakfast at The Loveless Cafe which has the best biscuits and preserves I've ever tasted.  Then it was off to The Hermitage, home of President Andrew Jackson (America's 7th President).  Beautiful house and grounds (to walk off breakfast!), not so sure about his political views though!
Photo: Biscuits & Preserves at The Loveless Cafe
It's hot hot hot here, today it was 95F - a bit too hot for a light-blue Scottish person!
Later in the week, amongst other things, we plan to visit the Ryman Theatre, home of the Grand Ole Opry broadcasts from 1943 until 1974.  Kings of Leon have also played there in 2005 & 2007 - there is footage of them playing the Ryman on Talihina Sky.
But, tomorrow we are off to see the original King... Graceland, watch out, the Scots are coming!